1

  Read the exam task. How many words should you write?
Look at the three pictures.
Write the story shown in the pictures.
Write 35 words or more.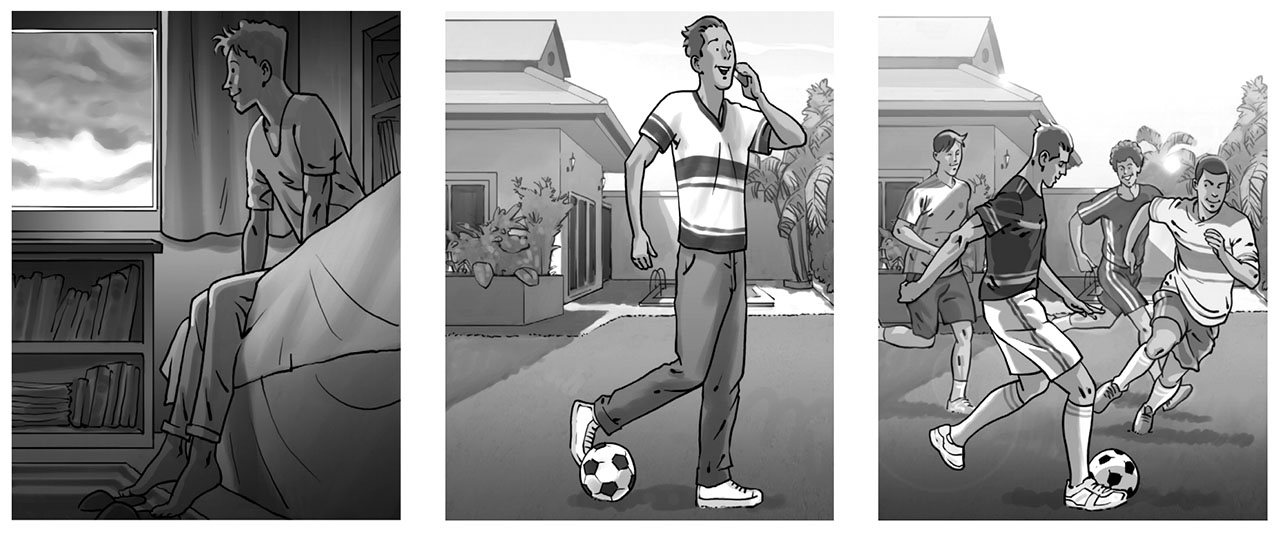 MODEL ANSWER
1Mark got up and 2looked outside. He was happy because it was a 3sunny day. He decided to play football. 4He then found his football and hurried outside. Next, he called his friends. 5Later, his friends arrived, and they played together. They had a wonderful time!
1 this tells the first part of the story
2 past simple verbs for the main events in the story
3 adjectives and adverbs make the story more interesting
4 this tells the second part of the story
5 this tells the third part of the story
KEY LANGUAGE AND IDEAS FOR STORIES
Give the story an interesting title:
The robbery     A day out
Use past simple and past continuous verbs:
Mark got up     It was raining
Use time expressions:
First     then     later     the next day
Use adjectives to describe people, places and feelings:
friendly     kind     busy     excited     angry
Use adverbs:
quickly     slowly     carefully
Use interesting verbs:
hurried     ran     shouted
2

  Complete the story with the past simple or past continuous form of the verbs in brackets.
A surprise visit
Mary was at home one afternoon. She 1……………… (feel) bored because it 2……………… (rain).
Suddenly, Mary's friend Sara 3……………… (arrive) at the house. She 4……………… (carry) a pizza in a box, and a video game. Mary was very happy! Mary and Sara 5……………… (eat) the pizza together and 6……………… (play) the game.
3

  Choose the correct time expressions in italics to complete the stories.
Max decided to make a cake. 1 First / Next, he went to the supermarket to buy some eggs and butter.
2 Suddenly / Next he mixed everything together quickly and put the cake in the oven. 3 Finally / First, the cake was ready! Max ate a big slice, and it was fantastic!
Paula was cycling home. 4 First / Suddenly, she saw a puppy in the road. It was on its own, and it looked sad.
It was her friend Sam's dog. Paula called the dog to her. 5 Then / Finally, she phoned Sam. 6 Finally / Next, Sam arrived. He was very pleased, and the dog was so excited!
4

  Cross out the adjective that is not possible in each sentence.
1   I was feeling angry / happy / tired / tall.
2   The waiter was very polite / empty / kind / friendly.
3   The town was quite busy / quiet / pleased / old.
4   She was wearing a blue / big / quick / pretty hat.
5   It was a boring / great / high / brilliant film.
6   He was carrying a small / black / ready / new suitcase.
5

  Read the exam task. Before you write your story, make notes on your ideas in the table.
Look at the three pictures.
Write the story shown in the pictures.
Write 35 words or more.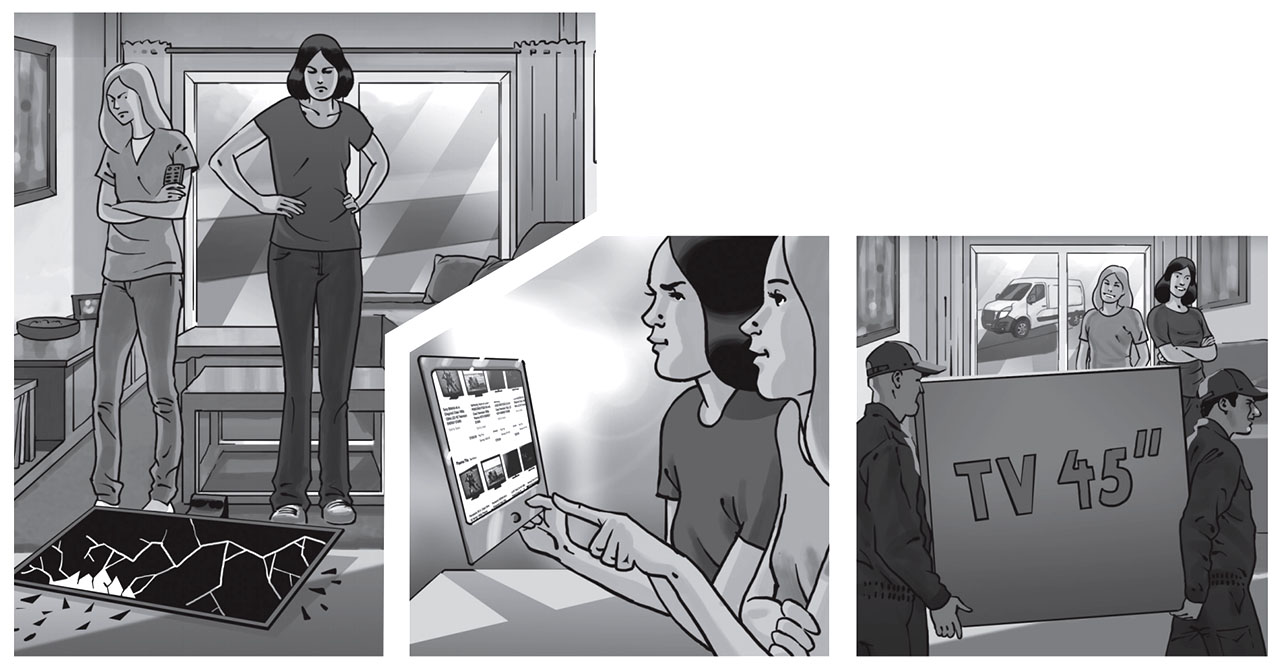 Picture 1

 

 

Picture 2

 

 

Picture 3

 

 
6

  Write your story, using your notes from Exercise 5.
………………………….……………………………………….……………
………………………….……………………………………….……………
………………………….……………………………………….……………
………………………….……………………………………….……………
………………………….……………………………………….……………
………………………….……………………………………….……………
………………………….……………………………………….……………
………………………….……………………………………….……………
7

  Check your story and make changes if necessary.
◻ Have you written about all three pictures?
◻ Have you used past simple verbs?
◻ Have you used adjectives and adverbs to make your story interesting?
◻ Have you counted your words? 
Answer
1
35 words or more
2
1 was feeling   2 was raining   3 arrived
4 was carrying   5 ate   6 played
3
1 First   2 Next   3 Finally   4 Suddenly
5 Then   6 Finally
4
1 tall   2 empty   3 pleased   4 quick
5 high   6 ready
5
Students' own answers.
6
A new TV
Alice wanted to watch TV, but her TV was broken. She told her mum. They looked on their computer and quickly found a big, new TV online. It wasn't expensive, so Alice's mum bought it. The next day, the new TV arrived, and Alice felt really happy.
7
Students' own answers.