1

  Complete the puzzle to find the mystery word. Write a definition for the mystery word.
1   to say that someone or something is bad
2   to agree with an idea, group or a person
3   to ask people to give you money or things for something
4   to work together with other people to achieve the same goal
5   when you say that something or someone is bad
6   a time when people vote to choose someone for a political job
7   an official order that prevents something from happening
8   Mystery word: ……………………   Definition: ……………………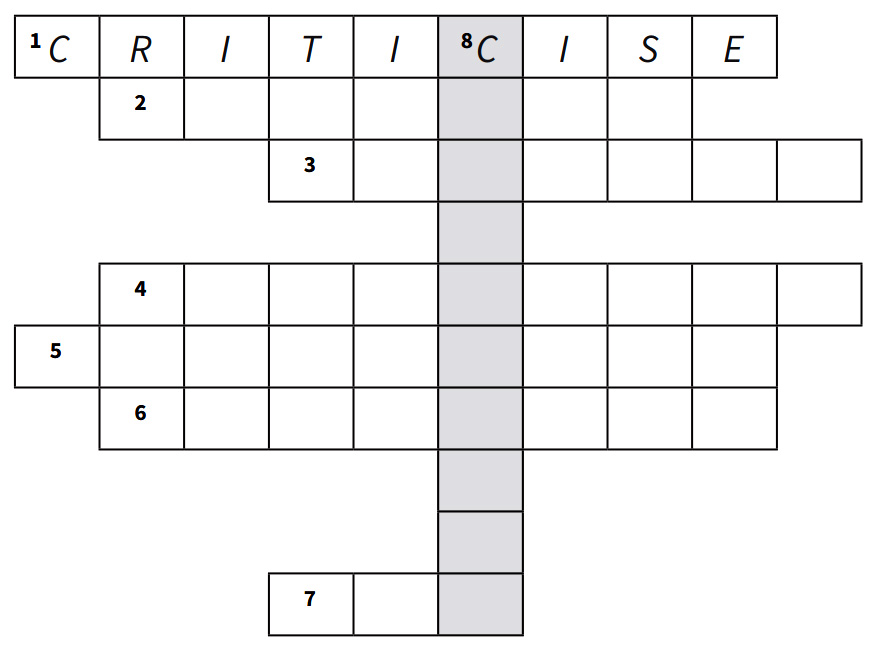 Answer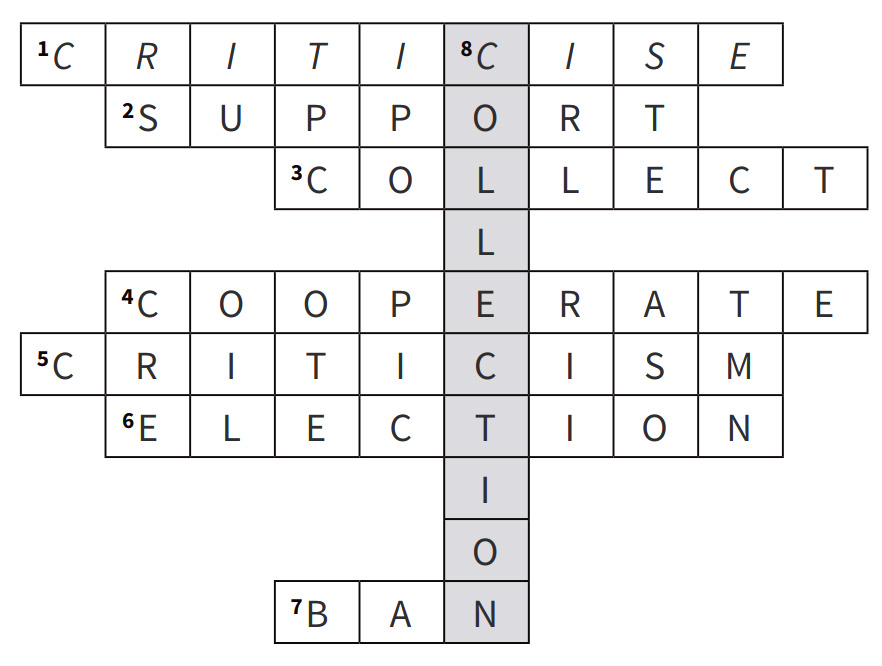 8   Mystery word: collection; Definition: when something / money, food or clothes are collected for something / for a charity or an event
2

  Complete the sentences with words in the box in the correct form. Two verbs can be used twice.
ban     criticise     collect     cooperate     elect     support
1   Are you a ……supporter…… of any of these political groups?
2   The government has received a lot of …………………. over their handling of this crisis.
3   Is the flying of drones …………………. here because it's too close to the airport?
4   We had a …………………. for the local charity at school and raised over €500.
5   Who do you think the country will …………………. as their next president?
6   I would appreciate more …………………. between students and teachers in this matter.
7   Do you …………………. a particular football team?
8   Which party will you vote for in this ………………….?
Answer
2 criticism   3 banned   4 collection   5 elect
6 cooperation   7 support   8 election
3

  Put the words in the correct order to make sentences. There is one extra word in each sentence.
1   now / there's / in there / favour / a meeting / You can't go / in / because / progress
      ……You can't go in there now because there's a meeting in progress. ……
2   the homework / fact / was due / actual / I thought / turn / next week / the teacher said / it's due tomorrow / but / in
      …………………………………………………………
3   each one of / The principal / turn / will speak / to / you / in / general
      …………………………………………………………
4   the poor test results / of / I will give you / In / next week / another test / progress / the light
      …………………………………………………………
5   the new deal for / with / I'm / favour / climate change / in / of
      …………………………………………………………
6   the new rail link / I think / actual / good for traffic / general / will be / in
      …………………………………………………………
Answer
2   I thought the teacher said the homework was due next week but in actual fact it's due tomorrow.
3   The principal will speak to each one of you in turn.
4   In (the) light of the poor test results I will give you another test next week.
5   I'm in favour of the new deal for climate change.
6   I think the new rail link will be good for traffic in general.
4

  Tick ✓ the sentences that are correct. Find and correct the sentences with mistakes.
1   Everyone in the light of changing the name of the group please raise your hands. ……favour of……
2   Don't drive down the High Street because there's a demonstration in turn there. ………………….
3   What do you think of the university in general? ………………….
4   You can speak to everyone in actual fact and then write a report with your findings. ………………….
5   In the light of this new information we know we are looking for a man aged between 20 and 25. ………………….
6   They said they weren't coming but in favour they will be here later. ………………….
Answer
2   turn progress
3   ✓
4   actual fact turn
5   ✓
6   favour actual fact
5 

Choose the correct options.
A:   What do you think of the new rubbish (1) collection / cooperation / election service?
B:   Very confusing! It's hard to remember which materials are (2) criticised / banned / supported and I keep (3) backing / mixing / facing up the contents of the boxes by mistake.
A:   I agree. I'm all in (4) favour / the light / progress of recycling, but this system isn't easy. I don't like to (5) criticise / criticism / cooperate things but it does seem very complicated now.
B:   I know. It was part of the party's (6) cooperation / elect / election campaign and why I voted for them. I was fed up with seeing the recycling pile up because it was only (7) elected / collected / supported every fortnight but in (8) progress / actual fact / turn I don't think it's any better now.
Answer
2 banned   3 mixing   4 favour   5 criticise
6 election   7 collected   8 actual fact