1

  Complete the crossword puzzle.
Across
1   An occasion when someone is seen in public.
2   A song or single piece of music.
3   A piece of writing or a film that has been popular for a long time.
Down
1   The actors in a film or play.
2   A very popular book that many people have bought.
3   To listen or watch something on a device like a tablet or smart TV directly from the internet.
4   An example of artistic, musical or written work.
5   A set of books published by the same company which have the same subject.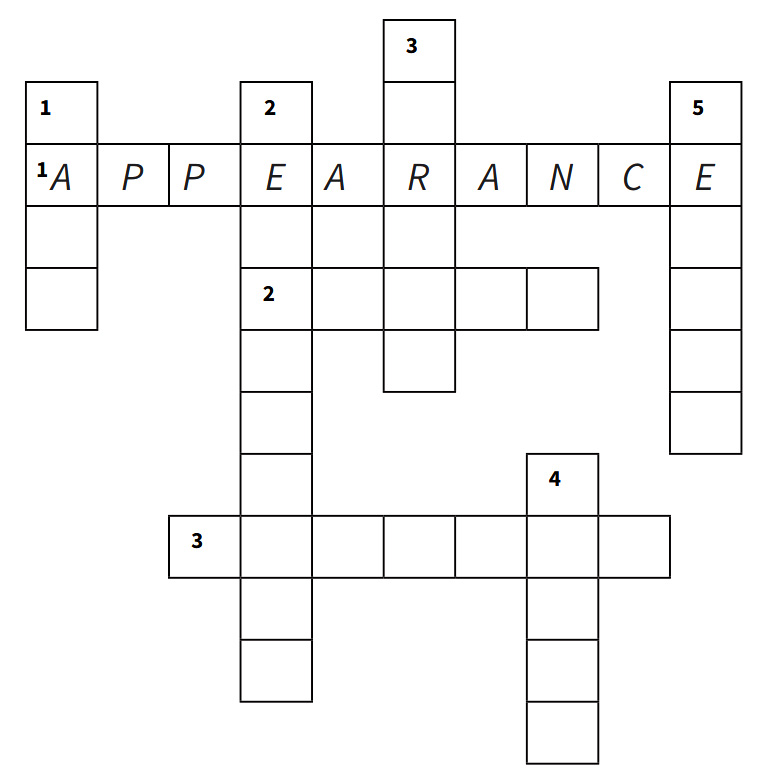 Answer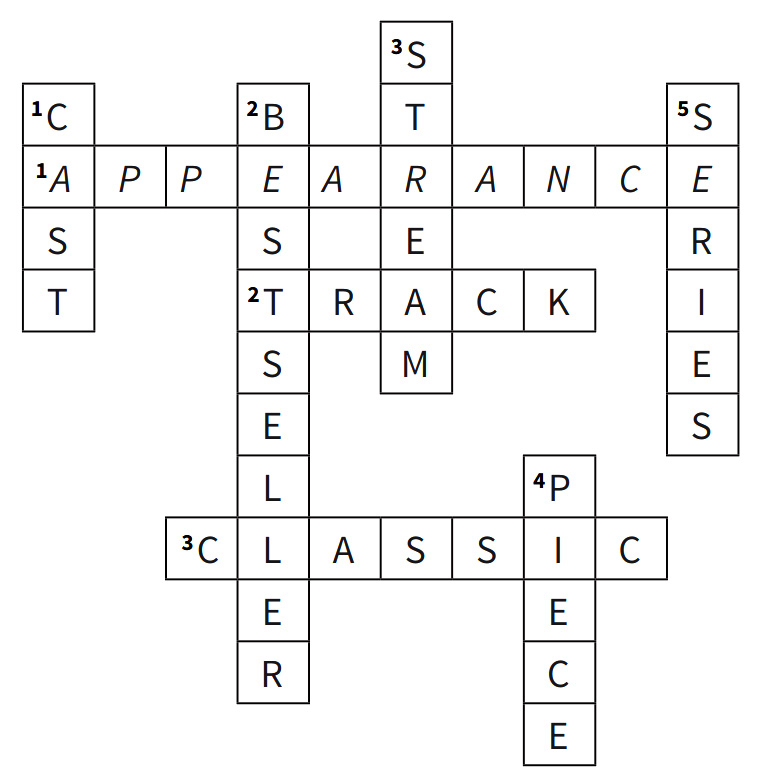 2

  Complete the sentences with the words in the box.
appearance     broadcasts     charts     pieces
series     shot
1   I love this opera, it is one of Mozart's most famous ……pieces…… of music.
2   The critics say the first book was the best one in the …………………… .
3   Did you see Shakira make her …………………… at the music awards last night?
4   They …………………… most of the indoor scenes of the film at an old house in the south of England.
5   This channel usually …………………… the news at 10pm, so let's watch the headlines.
6   Do you know any of the songs in the UK …………………… at the moment?
Answer
2   series
3   appearance
4   shot
5   broadcasts
6   charts
3

  Write the jobs next to the correct definitions.
1   This person is in charge of introducing a show. ……TV presenter……
2   This person corrects and changes text or film or is in charge of a newspaper or magazine. ……………………
3   This is someone who gives their opinion of a book, play or film. ……………………
4   These people entertain others by telling jokes. ……………………
5   This is someone who writes fictional books. ……………………
6   This person is in charge of making a film, show or musical recording. ……………………
7   This person produces apps or computer software. ……………………
Answer
2   editor
3   critic
4   comedian
5   novelist
6   producer
7   programmer
4

  Find and correct the mistakes in the text.
If you are looking for a career in the world of entertainment there are various options. If you enjoy being the centre of attention then become a critic, as long as you make people laugh. Alternatively, you could be a producer and introduce a show just like Oprah Winfrey. If you prefer being behind the scenes, how about working as a programmer and correcting the text in books by famous novelists? If you enjoy giving your opinion, then you could be a TV presenter and review books or plays. Finally, if you're good with computer software then you could be an editor and make your own entertainment app.
1   ……comedian……
2   ………………………
3   ………………………
4   ………………………
5   ………………………
Answer
2   producer TV presenter
3   programmer editor
4   TV presenter critic
5   editor programmer
5 

Choose the correct options.
A:   I saw Carla Michaels yesterday. She's a singer now. Apparently, she's got a song in (1) the charts / stream / classics.
B:   Wow! I always thought she'd be famous but I thought she would become a (2) producer / critic / TV presenter because she liked hosting the school talent show.
A:   I thought she'd be a (3) novelist / comedian / programmer because she was always telling jokes. Anyway, she's just finished her first album. The first (4) track / piece / classic is online, so we can (5) broadcast / stream / shoot it later and listen to it.
B:   Good idea. Has she made a video, too?
A:   Yes, she (6) cast / broadcast / shot that in New York last month! She has a friend who's a music (7) producer / editor / critic and he helped her out.
B:   Good for her. She'll be making (8) bestsellers / appearances / series on TV and radio shows soon, I'm sure.
Answer
2 TV presenter   3 comedian   4 track
5 stream   6 shot   7 producer   8 appearances