1

  Complete the crossword puzzle.
Across
1   An area filled mainly by houses, no offices or shops
2   an area, house or village that is a long way from any towns or cities
3   modern and influenced by the most recent fashions
4   relating to the countryside and not to towns
Down
1   relating to a town or city
2   varied or different
3   connected with factories and working buildings
4   this kind of community is one where people in the same area know each other well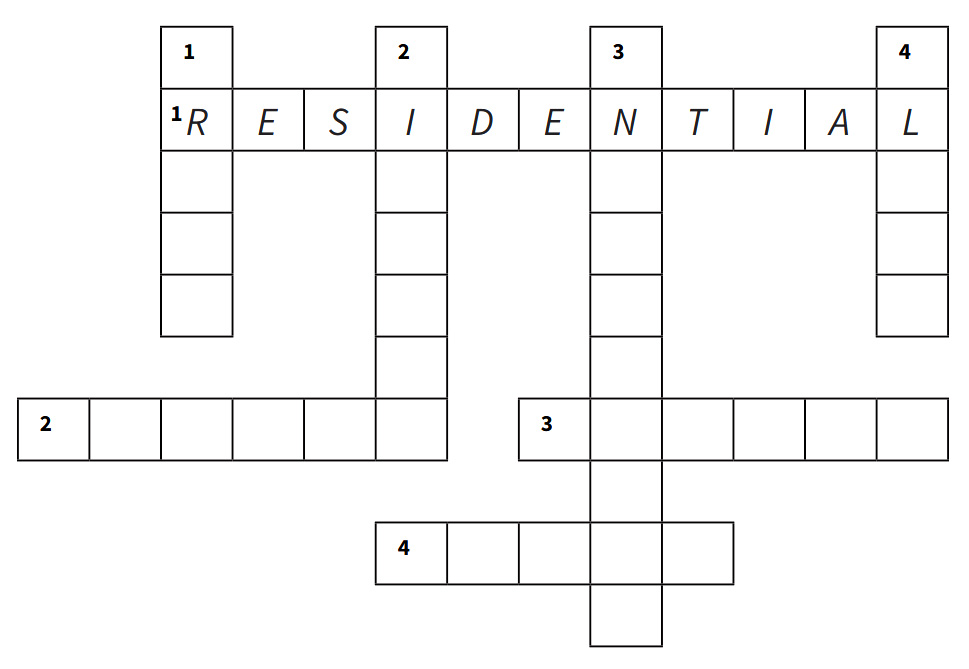 Answer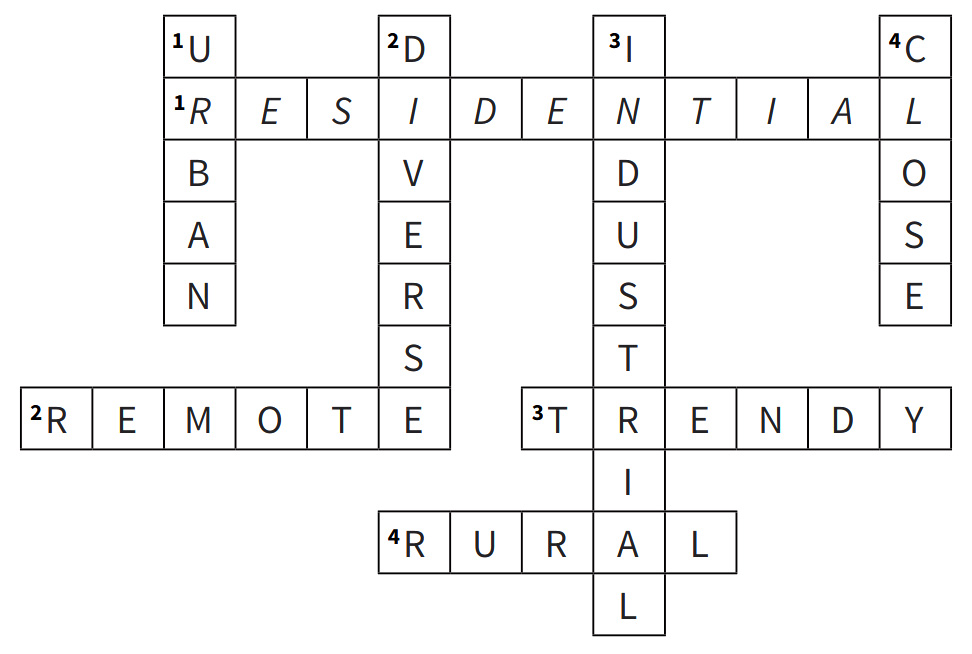 2

  Complete the text with the words in the box.
affordable     industrial     inner city     relaxed
remote      rural     urban     welcoming
I live in Taiwan which is a beautiful island in east Asia. The west coast is mainly 1……urban…… with several big cities and various 2………………. areas, but the east coast is more 3………………. with national parks and some high mountains that have 4………………. villages you can visit. Transport in Taiwan is quite 5………………. as you can take trains and buses to most places. In general, people are very 6………………., even if you don't speak Chinese and the atmosphere is quite 7………………. and easy going. Taipei is the capital. The 8………………. is quite old and densely populated but the crime rate is low.
Answer
2 industrial   3 rural   4 remote
5 affordable   6 welcoming   7 relaxed
8 inner city
3

  Choose the option (A or B) with the most similar meaning for each sentence.
1   They look as if they're going out for a walk.
      A   They might go for a walk.
      B   They are definitely going for a walk.
2   It feels as though it's going to snow later.
      A   It is possible that it will snow later.
      B   It will surely snow later because it is in the forecast.
3   He sounds as though he's got a cold.
      A   He has got a cold.
      B   He may have a cold.
4   She was behaving as if she had never met him before.
      A   I know she has never met him before.
      B   I don't think she's met him before.
5   It looks as if the plane will be on time.
      A   The plane might arrive on time.
      B   The plane will arrive on time, I'm sure.
4

  Put the words in the correct order to make sentences. There is one extra word in each sentence.
1   I'm / with / as / coming down / feel / I / flu / if / dizzy
      ……I feel as if I'm coming down with flu. ……
2   won't / sounds / though / tickets / It / we / get / be able to / as / hopes
      ……………………………………………….
3   we'll / as / looks / travel / the next bus / It / take / have to / if
      ……………………………………………….
4   the lottery / afforded / had / as / He / was acting / he / won / though
      ……………………………………………….
5   sounds / turn right / looks / going to / if / She / at the traffic lights / she's / as
      ……………………………………………….
Answer
2   It sounds as though we won't be able to get tickets.
3   It looks as if we'll have to take the next bus.
4   He was acting as though he had won the lottery.
5   She looks as if she's going to turn right at the traffic lights.
5 

Choose the correct options.
A:   Have you considered York University in the north of England?
B:   No, what's it like?
A:   Well, York is a beautiful, old city and the (1) industrial / affordable / inner city is full of small, windy streets and historical buildings. The university campus is in a (2) residential / urban / diverse suburb though. It's a very (3) close / trendy / rural community but (4) affordable / welcoming / remote to new students.
B:   It sounds (5) as though I should / that I must definitely / as if I pay a visit.
A:   It's (6) a thought / an agreement / belief, at least. I think you'd like it. The north of England is more rural (7) coped with / depend on / compared with the south but it's just as (8) remote / diverse / trendy.
Answer
2 residential   3 close   4 welcoming
5 as though I should   6 a thought
7 compared   8 diverse