1

  Complete the puzzle to find the mystery word.
1   a relative who lived a long time ago
2   an ancient story about gods and brave people
3   a period of ten years
4   a group of people who live together and share the same culture and language
5   a period of 100 years
6   to bring something like a town or organization into existence
7   someone who lives in a particular town or city
8   Mystery word: ……………….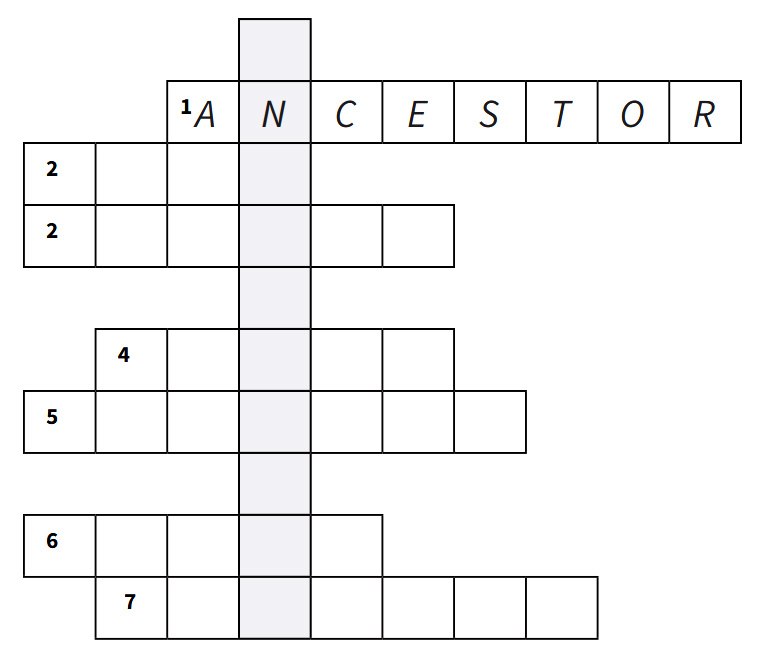 Answer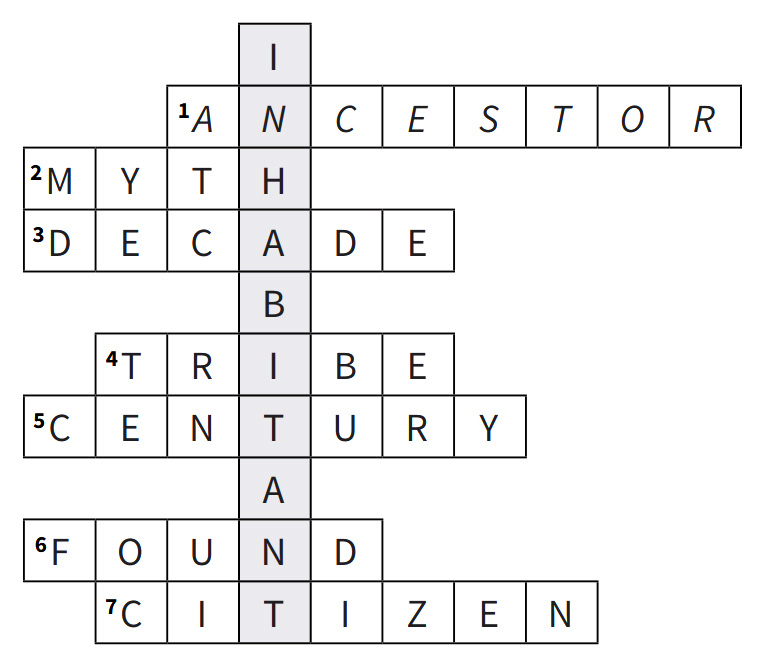 Mystery word: inhabitant
2

  Tick ✓ the sentences that are correct. Find and correct the sentences with mistakes.
1   The twentieth decade is well known for its huge developments in technology. ……century……
2   How far back can you trace your tribes? …………………..
3   Which year did women get the vote in your country? …………………..
4   Have you heard the myth about a minotaur in a maze? …………………..
5   Do you know how many ancestors there are in your town? …………………..
6   Amazon was founded in 1994 and is now one of the largest companies in the world. …………………..
7   The Zulus is perhaps the most well-known citizen in Africa. …………………..
8   Can you be a century of more than one country? …………………..
Answer
2   tribes ancestors
3   ✓
4   ✓
5   ancestors inhabitants
6   ✓
7   citizen tribe
8   century citizen
3

  Complete the second sentence in each pair using the word given and any other words necessary so that it has a similar meaning to the first sentence. Do not change the word given. Use 2 to 4 words including the word given.
1   He is continuously checking his text messages. TIME
      He checks his text messages ……all the time…… .
2   I like to go to the theatre sometimes. TIME
      I like to go to the theatre …………………… .
3   We don't eat in restaurants very often. SELDOM
      We …………………… in restaurants.
4   I go horse riding sometimes but not very often. WHILE
      I go horse riding …………………… .
5   They see their cousins almost every week. WEEKS
      They see their cousins …………………… .
Answer
2   from time to time
3   seldom eat
4   once in a while
5    most weeks
4

  Complete the text with the correct form of the words in the box. You may need to add a word.
constant     days     occasion     rare     regular
My little brother is 1……constantly…… hungry. As soon as he wakes up he's ready to eat. 2………………. he has cereal and toast for breakfast, but 3………………. Mum will make him pancakes. He has lunch at school but he 4………………. buys a snack on the way home. He 5………………. makes his own snacks because he's too lazy.
Answer
2   Most days
3   occasionally
4   regularly
5   rarely
5 

Complete the dialogue with the words in the box. There are three extra words.
ancestors     bothered about     century     constantly
decade     found     most days     once in a while
seldom     series     tribe
A:   My uncle is investigating our family tree because he wants to know about our 1……ancestors…… . So far he's traced them all back to the nineteenth 2………………. .
B:   Wow! That's interesting. 3………………. I ask my grandparents about our relatives but they don't remember that much and I'm not that 4………………. it.
A:   I think my uncle's interest started when he read a 5………………. of books based on the local history of different areas. Now he's 6………………. looking for family records and interviewing our relations! He's 7………………. without a book on the subject. At the moment, he's looking for information about someone who was born in the 8………………. of 1890-99!
Answer
2   century
3   Once in a while
4   bothered about
5   series
6   constantly
7   seldom
8   decade