1

  Complete the puzzle to find the mystery word. Then write a definition for the mystery word.
1   to attract attention or emphasise something important
2   to make a lot of people have a certain feeling
3   to comfort someone and stop them from worrying
4   to make someone laugh or smile
5   to make someone excited or interested about something
6   to say in public what you think about an important issue
7   when you make someone feel happier
8   Mystery word: ……………………
      Definition: ……………………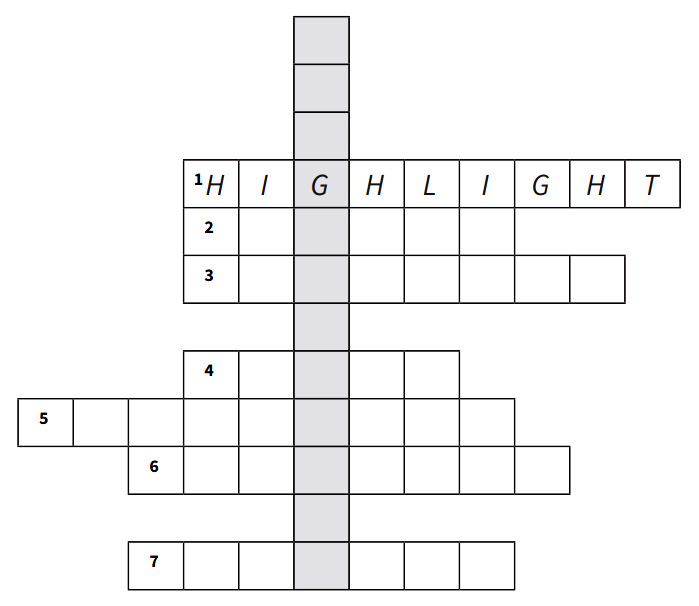 Answer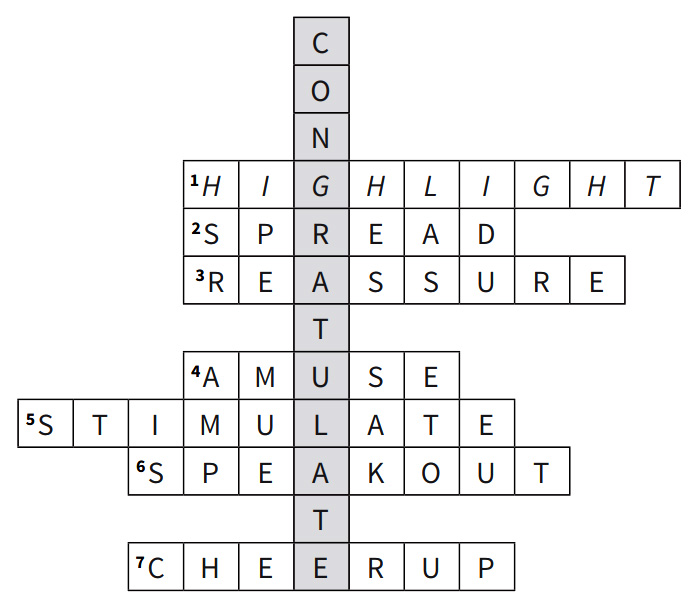 8   Mystery word: congratulate;
      Definition: to tell someone you are happy for them / because they've done something good / because something good has happened to them
2

  Find and correct one mistake in each sentence. You only need to change one word.
1   Olivia decided to make 100 flowers and leave them for strangers to find as a way to amuse …spread… a little happiness around.
2   She hoped that when people saw her flowers it would amuse them up.
3   She started making woollen flowers because it congratulated her and she enjoyed inventing new designs.
4   Many people who found her flowers have highlighted her, which she has found reassuring.
5   It's also spread her to keep going.
6   This story reassures how easy it is to be kind to others and how it can help you feel better too.
Answer
2   amuse   cheer
3   congratulated   amused
4   highlighted   congratulated
5   spread   stimulated
6   reassures   highlights
3

  Put the words in the correct order to make sentences. There is one extra word in each sentence.
1   Look at you two! / need / both / your clothes / You / to change / either
      ……Look at you two! You both need to change your clothes. ……
2   believe that / both / has done / I can't / your homework / neither / you / of
      …………………………………………………
3   chicken / for lunch / either / There is / of / a choice / fish / or / neither
      …………………………………………………
4   come to / nor / tomorrow / Either / this class / Kate / Rose can / Neither
      …………………………………………………
5   free for lunch / either / Are / on Sunday / of you / or / ?
      …………………………………………………
6   I have two brothers. both / you / them / Have / met / neither?
      …………………………………………………
Answer
2   I can't believe that neither of you has done your homework.
3   There is a choice of either fish or chicken / chicken or fish for lunch.
4   Neither Kate nor Rose can come to this class tomorrow.
5   Are either of you free for lunch on Sunday?
6   I have two brothers. Have you met them both?
4

  Complete the sentences with the appropriate words.
1   So, Nick and Ross, have ……either…… of you done any volunteering before?
2   I'm afraid ………………… of us has time to write this report.
3   We can offer you ………………… the aisle ………………… the window seat?
4   It's terrible, ………………… the trains ………………… the buses are running.
5   At the moment, ………………… the High Street and Queen's Street remain closed to cars.
6   Do ………………… of you know where the post office is?
Answer
2   neither
3   either … or
4   neither … nor
5   both
6   either
5 

Choose the correct options.
A:   Did you see that new (1) comedian / novelist / programmer on TV last night?
B:   Yes I did. She was so funny, she really (2) stimulated me / cheered me up / spoke out.
A:   Me too. Even my brother was (3) amused / congratulated / reassured and he's quite hard to please. Usually (4) either / neither / both I like someone and he doesn't or he likes someone and I don't.
B:   Was that her first (5) appearance / cast / shot? I don't think I've ever (6) coped with / laughed at / heard of her before.
A:   I'm not sure. But if (7) neither / either / both of us have seen her before she's probably new.
B:   We should (8) both / neither / either do a search to see if she's done any more shows.
Answer
2   cheered me up
3   amused
4   either
5   appearance
6   heard of
7   neither
8   both